Participants are immersed in real situations, based on the vast experience and practice of the agency's speakers.
The objective is to transpose them, by shifting them to another universe to enable optimal absorption of key learning. The conferences are adapted to all audiences, regardless of their job functions, levels of responsibility or sectors of activity. The conferences fully involve participants and are inspiring. They last from 30 minutes to 1.5 hours and a discussion session can be organized at the end of the conference with the participants.
The agency's experts are all experienced public speakers who talk about negotiation, leadership, collective agility and trust. Their very operational approach combined with a perfect knowledge of the business world means that each and every participant can find tools and techniques that can be directly transposed into their professional activity and personal life.
Each conference is specifically prepared based on its duration, the number of participants and the objectives set by our clients. They can be custom-made or exclusively created.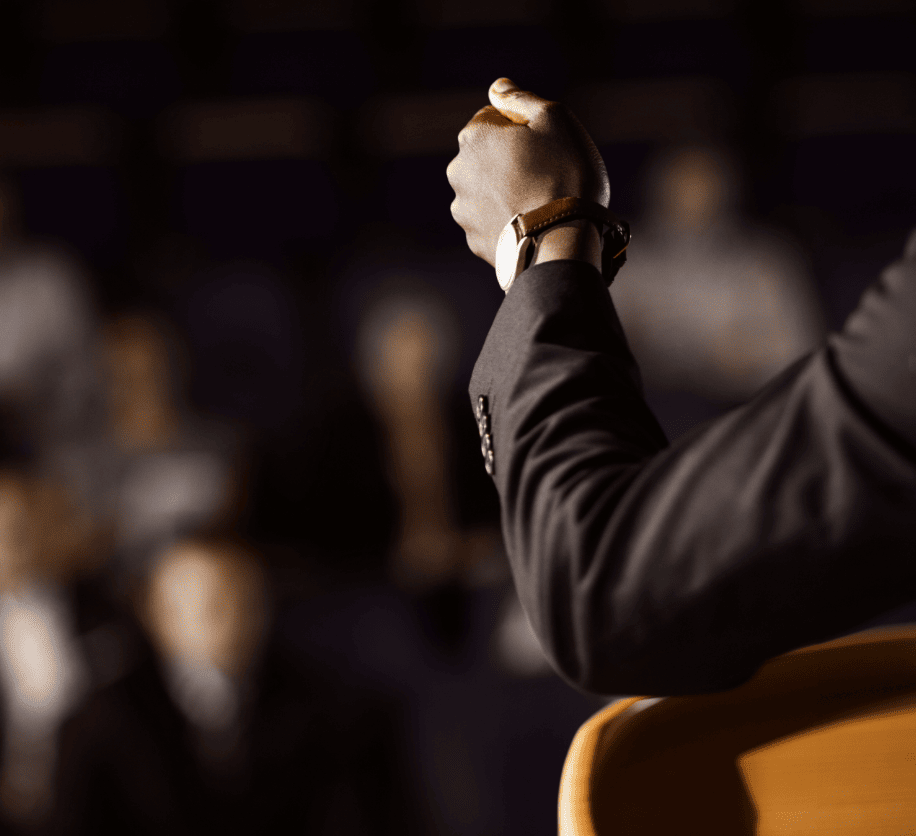 All of the Auray Quiberon Terre Atlantique employees enjoyed a very inspiring talk. They all appreciated the values conveyed in this introductory conference to a professional seminar. I highly recommend François Elbarhi.
DIRECTOR GENERAL OF SERVICES AT AURAY QUIBERON TERRE ATLANTIQUE
CONFERENCE BY
FRANÇOIS ELBARHI
We really appreciated François' talk. He drew many parallels from his RAID experience. People were passionate about his speech. It gave them the strength and motivation to go back to negotiating with clients in these very troubled times. François is very accessible and down to earth. His presentation was very convincing and he effortlessly answered all questions asked. Thank you so much for energizing the group and exciting them with your captivating speech!
SALES & MARKETING DEVELOPMENT, B2B & B2C, INBOUND, OUTBOUND, DIGITAL MARKETING, CUSTOMER EXPERIENCE
CONFERENCE BY
FRANÇOIS ELBARHI
To take a closer look at reality, it's sometimes necessary to take a step back. This was the objective of Laurent Combalbert's highly original talk, which offered us a fresh look at our daily situations, bringing them an intensity that forced us to sit up and listen in admiration. We discovered a new language and a concrete toolbox for transforming our problems into solutions. It was a breath of fresh air!
CEO OF MOET HENNESSY DIAGEO FRANCE
CONFERENCE BY
LAURENT COMBALBERT
Laurent Combalbert reminded the teams of the power of a well-prepared negotiation. It allowed us to take a useful strategic step back and shake up our habits. It was a true lesson in humility that we could all share!
CONFERENCE BY
LAURENT COMBALBERT
Laurent Combalbert gave the laureates of the Institut de l'Engagement an unforgettable talk. A showman and educator, he used his experiences in RAID and…with his children(!) magnificently to powerfully transmit useful advice on negotiation to all.
DEPUTY DIRECTOR GENERAL INSTITUT DE L'ENGAGEMENT
CONFERENCE BY
LAURENT COMBALBERT
Despite our profession being the polar opposite of Laurent's, we found parallels in our values of trust, leadership and collective performance in his speech. Thank you for this magical moment where we were transported into a world which is radically different from ours and incredibly inspiring!
CONFERENCE BY
LAURENT COMBALBERT
In times of uncertainty and turmoil, trust has become an indispensable resource for achieving stable and sustainable performance. This is what Laurent Combalbert reminded us of using his experience and adventures, allowing us to take a well-needed step back and giving us a real breath of fresh air.
DIRECTOR OF SALES ENABLEMENT AT HPE FRANCE
CONFERENCE BY
LAURENT COMBALBERT
An interesting and stimulating talk by Laurent Combalbert for the General Secretariat teams from the French retail bank. He has an infectious energy, a strong vision of trust which, due to his talent as an educator is made very concrete. It was a memorable moment for the participants.
SECRETARY GENERAL OF RETAIL BANKING IN FRANCE AT SOCIÉTÉ GÉNÉRALE
CONFERENCE BY
LAURENT COMBALBERT
Malick's talk was very much appreciated by all participants of the M&A Groupe La Poste seminar. He succeeded in keeping his audience captive throughout the 2-hour conference and question and answer session. He is an unparalleled storyteller, able to adapt his presentation to our needs by drawing parallels between what he experienced in the field and our profession, while giving us negotiation techniques and methods that we could apply on a daily basis. In short, it was an exciting and refreshing conference!
LA POSTE GROUP HEAD OF FINANCING, M&A AND FINANCIAL STRATEGY
CONFERENCE BY
LAURENT COMBALBERT
A high-flying, captivating and exciting speech, which kept the 100 managers of Banque Tarneaud in suspense for 2 hours. We could have held on much longer if we hadn't been limited for time. This conference greatly contributed to the overall satisfaction of our employees during this convention. Many thanks to Laurent Combalbert for this enriching and energizing moment.
DIRECTOR OF COMMUNICATIONS FOR BANQUE TARNEAUD
HIGH INTENSITY LEADERSHIP BY
LAURENT COMBALBERT
Intensity and discipline were the key words of our convention which brought together nearly 200 of our employees. Inspired by his career and his outstanding examples, Laurent Combalbert was able to share his experience with the audience, using real-life situations, concrete tools which could be put into action, illustrating these dimensions with relevant examples. This was precisely why his talk had such a strong effect in our organization…by taking "his extraordinary" examples back to help in our daily lives.
MANAGING DIRECTOR & GENERAL MANAGER – P&G HEALTH FRANCE
CONFERENCE BY
LAURENT COMBALBERT
Laurent is an excellent speaker who draws on his rich and exciting experience as a negotiator to deliver powerful and memorable messages to his audience. His speech at our brand launch was particularly appreciated and was perfectly adapted to the order… I highly recommend him.
Secrétaire Général – Groupe EVOLE ENERGIES
CONFERENCE BY
LAURENT COMBALBERT